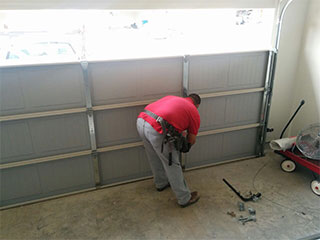 Our team of experienced maintenance technicians is here to assist you with garage door maintenance services geared towards extending the lifespan and functionality of your doors at home. We provide replacements on worn down components to ensure that they can keep performing their function, repairs on damages sustained from extensive use and weathering, as well as inspections on safety and functionality features to ensure that you are always getting the most out of your door in terms of safety, protection, and utility. Here are some of the maintenance services that we can provide.
Minor Repairs on Damaged Components
Your garage doors are made up of many different components, each with a crucial role to play in the functionality of your setup. These parts are sure to sustain some damage throughout their use, and so it may be necessary to conduct minor garage door repairs on these parts. Our repair services will help you ensure that you can continue to operate your door safely while enjoying peace of mind in knowing that it is providing the protective power that you need.
Sourcing and Installing Replacement Parts
When replacement parts are needed to ensure that your garage doors remain in good health, trust our team to source the best possible components for you. We work with manufacturers of original garage door parts to ensure a high standard of quality in all our maintenance and installation jobs.
Regular Inspections and Restorative Maintenance
Whether you need to have your garage door adjusted, are looking to have your safety features inspected, or need to have springs and cables replaced, you can rely on our team to provide you with thorough and carefully conducted maintenance that ensures that your doors are always safe and secure.
Call us Now for Details
If you would like further information on how our team can assist you with garage door maintenance at your home, contact Garage Door Repair West Jordan for questions, advice or information today.
Looking for more? We also offer:
Roll up Garage Door Maintenance
Genie & Liftmaster Opener Repairs
Garage Door Cable Replacement
Overhead Door Repair & Installation